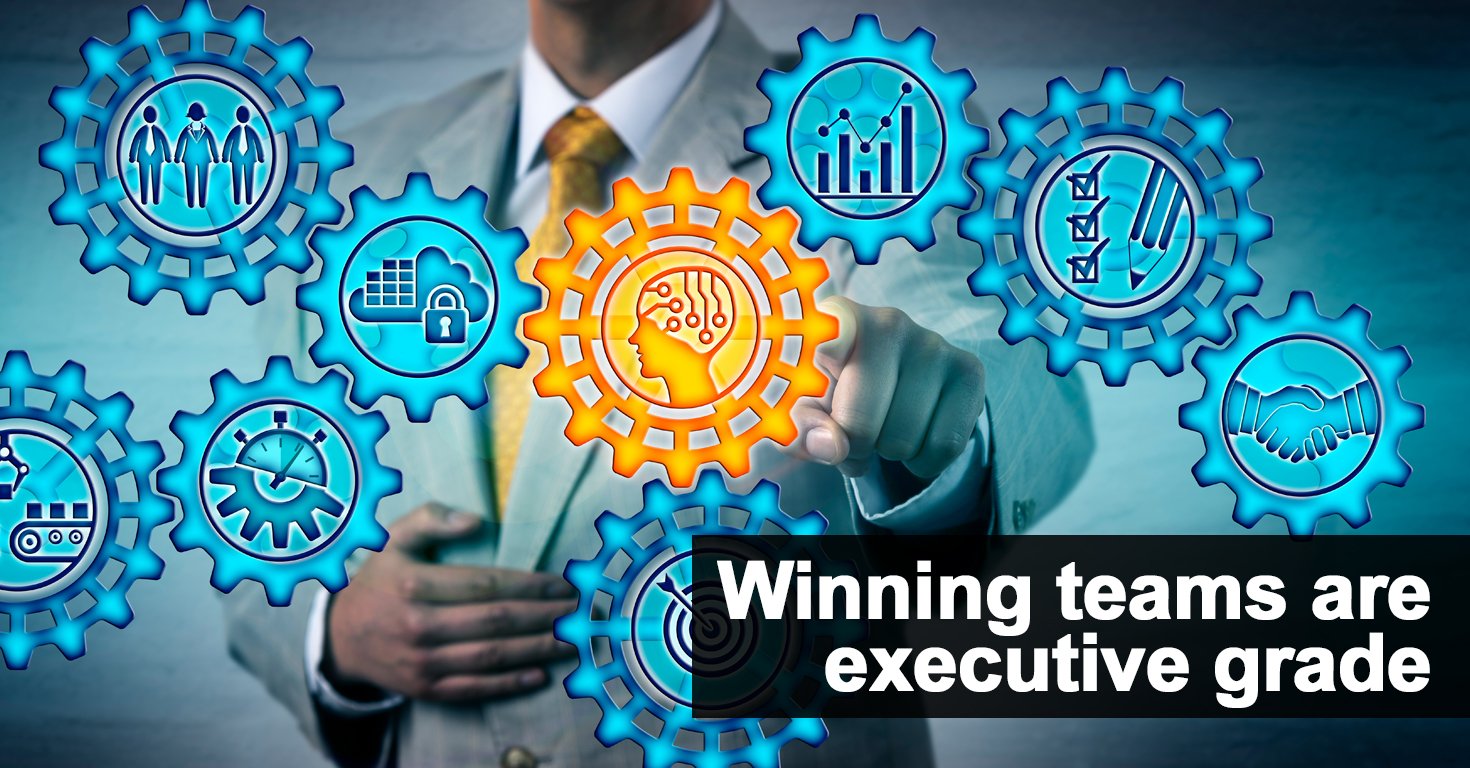 GMC Trucks has a slogan, "We are professional grade." (A great brand position, by the way.)
High-performance organizations are led by people who are "executive grade."
These executives demonstrate a rare mix of skills, abilities, and behaviors. Here are some of the most important ones:
Executive-grade results. First and foremost, executives deliver executive-grade results. They sign up for "the big number" and then build organizations to deliver it. They earn the organization's respect … not because of their position, but because of their results.
Executive-grade strategic thinking. It has been said that, "leaders are readers." Executive-grade strategic thinking is driven by continuous learning, reading, seminars, etc. The best executives are humble enough to know that they don't know everything … and that humility fuels their quest for knowledge.
Executive-grade perspective. Executives have a breadth of perspective that extends beyond their departmental responsibility. They understand the interdependencies of all elements of the organization, and understand that the needs of the organization supersede the needs of their own department.
Executive-grade expertise. Executives have functional expertise developed at the highest level. They are truly one of the best-in-the-world at their function. This deep expertise allows them to recruit top talent for their departments … because the best want to work for the best.
Executive-grade communications.

Executives are polished communicators. They know what to say, and how to say it. They have a mastery of language which allows them to paint compelling word-pictures to inspire followers to charge the hill.
Executive-grade energy. Being an executive is not a 40 hour / week job. Executives must set the example, working long and hard. They must attend social functions on nights and weekends. They travel, often extensively. Therefore, they must have high energy levels and a "big tank."
Executive-grade decorum. Executives realize that they are always "on-stage." Therefore, they conduct themselves with decorum. They dress appropriately. They use appropriate language. They only discuss things that are appropriate … with the appropriate people.
Executive-grade networking. Executives build relationships with other senior executives. They have a unique ability to connect and leverage those connections to create value for their organizations. This deep, executive-grade rolodex is one of their greatest assets.
Executive-grade decision making. Executives are forced to make tough decisions. In fact, if the decision is easy, it probably should have been made by someone lower in the organization. To make the tough decisions, executives apply wisdom to gather information, evaluate the options, and make the call.
Executive-grade development. Executives must be developers of people. They must have an innate ability to spot talent and potential in others, and then invest themselves in helping people develop to the maximum of their potential. Often, they see developing people as their greatest achievement.
To win, your organization must develop leaders who are truly "executive grade."
The Develop One Team module is a key component of many Pit Stop Programs.