BOOKS BY DAVE RAMOS
---
DEVELOP ONE TEAM
Jim Collins made the term "the right people in the right seats" part of our contemporary business lexicon.
However, having the right people in the right seats is necessary, but not sufficient.
C-Suite executive teams are totally different from any other kind of team.
Thus, traditional team-building methodologies, metaphors, and approaches do not work.
To transform a group of executives into One (high-performance) Team, you must have the right model. We couldn't find one, so we developed one.
Our findings will be published in our upcoming book, Develop One Team - How to Develop a High-Performance Executive Team.
ESTIMATED RELEASE DATE - LATE 2023
---
---
DRIVE ONE DIRECTION
The book features case studies of fifty exemplar companies.
For each company, we identify how they unleashed the accelerating power of alignment.
Some are household names like Ford, Starbucks, and Microsoft.
Some are disrupters and pioneers, like Amazon, Netflix, and Tesla.
Some are mid-market innovators, such as Bognet Construction, BTI360, and Basecamp.
We cover a wide range of industries, ranging from CrossFit to Cirque du Soleil. Chocolate manufacturers to cranberry cooperatives. Churches to construction companies.
Drive One Direction - How to Unleash the Accelerating Power of Alignment is available now on Amazon. Click here to purchase your copy.
---
---
---
DECIDE ONE THING
Decide One Thing makes a clear and compelling case for a simple idea: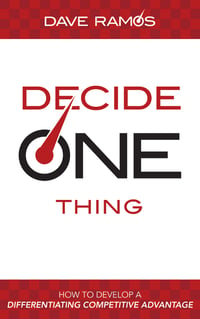 Organizations have to be good at lots of things, but the way to win is to become differentiatingly great at One Thing.
The book features case studies examining iconic brands, such as BMW, Nordstrom, and Dyson, as well as high-growth innovators, such as Site Organic, BTI360, and NeoSystems.
Ken Blanchard, bestselling author of The One Minute Manager® and Trust Works! said this about Decide One Thing:
"I think Dave Ramos's differentiation theory in Decide One Thing is very interesting. What's the one thing your organization can do, or provide, or make, better than anybody else? If you can figure that out, you're halfway to greatness—and if you can deliver on the promise, you're there."
Available on Amazon, iBooks, Barnes and Noble, and more.
---
---
---